How to Prepare Your Mixes for Mastering
Our engineers have compiled a set of common questions they get asked day in and day out about mastering. They've tried to provide some straight forward answers as well as pass on a few tips to make your next mastering session run a little smoother.
1. What file format do we need to bring to mastering?
Whether your mixes are being mastered for CD, on-line distribution, streaming or vinyl, 24-bit WAV files are the standard format to present at mastering. Sampling rates from 44.1kHz through to 96kHz are all perfectly acceptable. Please note that up-sampling your final mixes to a higher sampling rate will not yield any benefits whatsoever. In fact, it may result in a loss of audio quality.
2. Listen Carefully to Your Final Bounces
This may sound like an obvious point to make, however faulty bounces are the number one reason for hiccups and delays at the mastering stage. Don't assume that your humble pc is going to output your 132 track mix perfectly every time.
Always listen to your final mixes from the beginning to the end before sending it to mastering. Make sure all tracks are playing correctly, and that there are no clicks, pops or mutes in the audio. This is especially important if there is heavy use of plug-ins on the mix.
3. Do I Normalize my mixes?
Don't use any kind of normalizing on your mix-down. It's simply not necessary, and some applications can actually degrade the audio with this process. A mastering engineer will never complain about too much headroom.
4. Do I need to limit or compress the stereo mix before mastering?
Compression on individual channels is perfectly fine, however avoid placing a limiter or 'finalizer' plug in on the stereo buss. Don't be concerned if your mixes are not peaking at zero or sound quieter than commercial reference tracks you may be listening to. Your mastering engineer will take care of the final volume at the appropriate stage in your mastering session. Creative compression on the stereo buss is fine, just don't use compression for the sake of raising the overall level of the track.
Even though we can never judge a mix based on how it looks, below is a typical example of what appears to be a healthy looking mix to present for mastering. Plenty of headroom for equalisation and other processing at the mastering stage.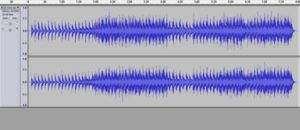 The waveform below is an example of a mix with little, to no headroom. Not an ideal mix to be presenting the mastering engineer with. Mixes like this are so loud and have so little room to work with, it simply means that the mastering engineer cannot work as effectively on the mix.
Try and aim for a mix that has at least 5-6 dBs of headroom. An RMS (or average level) of -15RMS is a great volume to aim for in the final mix. Most level meters in modern recording software will have comprehensive meters to show you RMS levels, but if yours doesn't, there are plenty of free metering plug-ins that are extremely useful. The 'Flux Stereo Tool' is an example of such a plug-in.